A visual proof of the Pythagorean theorem
Wolfgang Slany
http://slany.org/wolfgang/
http://www.dbai.tuwien.ac.at/proj/pf2html/
April 25, 2002
Theorem ([1]): The area of the square built upon the hypotenuse of a right triangle is equal to the sum of the areas of the squares upon the remaining sides. Stated algebraically, for a right triangle with sides of lengths

,
, and
, where
is the length of the hypotenuse,

For example, the area of the square labeled
in the following figure is equal to the sum of the areas of the squares labeled

and

.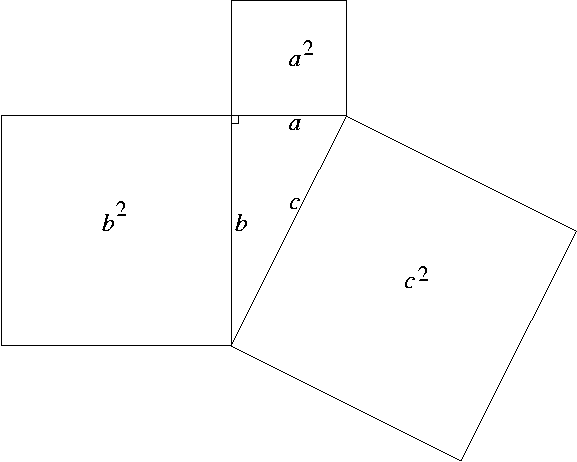 Proof:
Chou pei suan ching: The Arithmetical Classic of the Gnomon and the Circular Paths of Heaven, a Chinese astronomical and mathematical treatise. Exact date of origin unknown http://www.google.com/search?q=chou+pei+suan+ching.
A visual proof of the Pythagorean theorem
This document was generated using the LaTeX2HTML translator Version 2K.1beta (1.56)
Copyright © 1993, 1994, 1995, 1996, Nikos Drakos, Computer Based Learning Unit, University of Leeds.
Copyright © 1997, 1998, 1999, Ross Moore, Mathematics Department, Macquarie University, Sydney.
The command line arguments were:
latex2html pythagoras
The translation was initiated by Glowacki Martin / TU Wien Studenten Account Kopie on 2002-10-01

---
URL of this proof as currently expanded for referencing and bookmarking purposes.
This HTML file was generated using the pf2html extension, version 0.03.
LaTeX2HTML + pf.sty (hypertext proofs).
Project homepage at http://www.dbai.tuwien.ac.at/proj/pf2html
---
Glowacki Martin / TU Wien Studenten Account Kopie 2002-10-01