Albin Ahmeti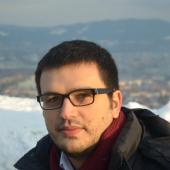 Address
Institute of Information Systems
Database and Artificial Intelligence Group
Vienna University of Technology
Favoritenstraße 9-11
1040 Vienna, Austria
Mail
Phone
+43-1-58801-799-01-825
Fax
+43-1-58801-18493
Room
HA 03 09
TU-Whitepages:
Albin Ahmeti
About me
I'm a Ph.D. student at TU Wien under the programme of Vienna PhD School of Informatics, supervised by Axel Polleres.

I hold a MSc degree in Computer Engineering obtained at University of Sapienza, Rome, Italy. My master thesis titled "Coupling Semantic MediaWiki with MASTRO" was supervised by Maurizio Lenzerini.

Moreover, I hold a BSc degree in Computer Science obtained at University of Prishtina, Kosovo.

My PhD is supported by Vienna PhD School of Informatics . My two years Master studies have been supported by Erasmus Mundus External Cooperation Window Project Basileus.
Research Interests
My research interests include:
Semantic Web
Ontology-based data access
Knowledge representation and reasoning
Software
SPARQL1.1 Update Rewriter
SPARQL1.1 Update Inconsistency Resolver
Publications
[ACPS16]
Handling inconsistencies due to class disjointness in SPARQL updates. Albin Ahmeti, Diego Calvanese, Axel Polleres and Vadim Savenkov

In Proceedings of the 13th European Semantic Web Conference (ESWC2016), Heraklion, Greece, June 2016. To appear.

[ACPS15]
Dealing with Inconsistencies due to Class Disjointness in SPARQL Update. Albin Ahmeti, Diego Calvanese, Axel Polleres and Vadim Savenkov

In 28th International Workshop on Description Logics (DL2015), Athens, Greece, June 2015.
[ .pdf ]
[ACP14c]
Updating rdfs aboxes and tboxes in SPARQL Albin Ahmeti, Diego Calvanese and Axel Polleres

In Proceedings of the 13th International Semantic Web Conference (ISWC 2014), Lecture Notes in Computer Science (LNCS). Springer, October 2014.
[ .pdf ]
[ACP14b]
(Poster) Updating rdfs aboxes and tboxes in SPARQL Albin Ahmeti, Diego Calvanese and Axel Polleres

10th Reasoning Web Summer School RW2014 & Doctoral Consortium, The 8th International Conference On Web Reasoning And Rule Systems, Athens, Greece, September 2014.
[ .pdf ]
[ACP14a]
SPARQL Update for Materialized Triple Stores under DL-LiteRDFS Entailment Albin Ahmeti, Diego Calvanese and Axel Polleres

In 27th International Workshop on Description Logics (DL2014), Vienna, Austria, July 2014.
[ .pdf ]
[ACP14]
Updating RDFS ABoxes and TBoxes in SPARQL Albin Ahmeti, Diego Calvanese and Axel Polleres

Technical Report
[ .pdf ]
[AP13]
SPARQL update under RDFS entailment in fully materialized and redundancy-free triple stores Albin Ahmeti and Axel Polleres

In 2nd International Workshop on Ordering and Reasoning (OrdRing 2013), CEUR Workshop Proceedings, Sydney, Australia, October 2013. CEUR-WS.org.
[ .pdf ]